ThyBlackMan.com) Samsung's foldable screen phone is already making fans curious about the new display technology.
Recent patent applications reveal that there's so much more happening at the South Korean company's design lab. According to reports, Samsung will launch new foldable Galaxy F series phones each year. The foldable phones are here to stay and mobile manufacturers are convinced that people will love this new feature. But as a consumer, do you really feel the urge to upgrade?
At Samsung's Developer Conference this year, we got to see a prototype of the company's new foldable screen phone. The question is whether the company is really trying to sell the technological trickery or there's something more that can convince users.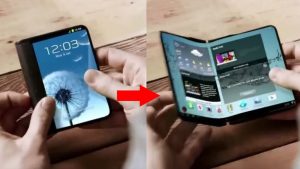 We have seen alternative form factors in the past. Smartphone manufacturers have tried almost everything from rotating the display to making flip phones work with two screens. We saw the craze for sliders and now the infinity display enjoys the same popularity. All these companies found interested customers to a certain degree and then smartphone manufacturers started making display-related changes which is still a hot trend.
Samsung wants to replace your tablets and phones with the new Galaxy F or whatever it will be called. The smartphone, in its new design, offers more screen space and occupies the same amount of space when kept in the pocket. When opened, the smartphone can unlock the full potential of the company's S Pen and it will certainly make the Note series devices feel outdated.
Samsung is not the only company that's working on a foldable screen phone, Huawei and other leading players are already working on similar products. Fundamentally speaking, the new Samsung Galaxy F doesn't offer anything that solves a problem. A foldable screen phone will look good, the big screen will be an advantage, and display technology will be praised by people, but Samsung hasn't said anything about what practical problems the device will solve.
There's so much today's smartphoneslack in terms of hardware, software, and design, but Samsung's foldable screen phone doesn't cater to anything like that. The design is enough to attract people, but those who wait for major updates, the foldable phone has nothing to offer to them. It is more like having a science fiction experience which you can enjoy once and then it gets old and boring quickly.
Consumers know almost all the answers like what they will get from a foldable screen phone. Soon we will come to know when and where the company is planning to launch the phone. We also know how the new display technology works, but out of this 5W1H equation, the most important thing is missing – why.
Why do you need a foldable phone? When it comes to practical usage and functionality, the Samsung Galaxy F and all other foldable phones fail to justify their presence. As a smartphone buyer, people want to learn more about use cases. Professionals want a phone that can be used as a tablet.
Those who remotely access their PCs, a foldable screen phone will be a big relief for them, but these solutions are user specific. Samsung showed us a box-shaped prototype, so we don't know how the hinge works and how thick the phone would be. It will be chunky for sure because even if the company decides to keep it less bulky, it's impossible to make it thin. But there are many other questions.
Why should you buy a foldable phone? Do we have a large number of apps that support this screen? Is Samsung working on a software that can unlock the full potential of Android and foldable display?
Google's mobile operating system is available on smartphones and tablets, but we still don't know how it will respond to adisplay that can switch between two screen sizes. What happens if the screen is damaged? Would it be easy and affordable to repair or replace it?
As a 'smart' phone buyer, many people will wait and see how the final product looks like and what actual problems it can solve.
Staff Writer; Corey Shaw
Have any Tech Tips? News? Hit up our Tech Guru at; CoreyS@ThyBlackMan.com