Something is very wrong with some of the Galaxy Fold review units.
On Wednesday, and seemingly within minutes of one another, four reviewers of Samsung's foldable phone posted photos of their bulging, "broken", "unusable" Folds, one with a portion of the screen white and the other half blacked out.
On Wednesday morning, Bloomberg's Mark Gurman tweeted about his review unit: "The screen on my Galaxy Fold review unit is completely broken and unusable just two days in. Hard to know if this is widespread or not."
And CNBC's Todd Haselton experienced screen flickering on the left side of his review device. YouTube reviewer Marques Brownlee (MKBHD) and The Verge's Dieter Bohn also had issues, with Bohn's screen forming a bulge beneath the surface.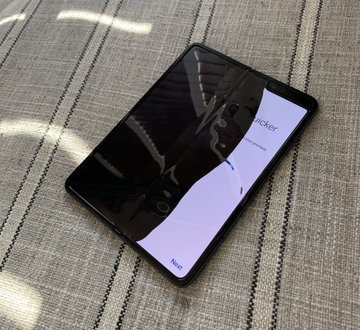 Samsung is aware of the issue. "A limited number of early Galaxy Fold samples were provided to media for review. We have received a few reports regarding the main display on the samples provided. We will thoroughly inspect these units in person to determine the cause of the matter," the company said in a statement on Wednesday.
These reports of a faulty Galaxy Fold are a nightmare situation for Samsung, the first major brand to sell a foldable phone. The Fold, which has a 4.6-inch screen on the outside, a bendable 7.3-inch screen on the inside and a nearly $1,980 price tag, is a major risk for the tech giant.
Intense criticism at the outset could hurt future sales, and shake consumer confidence in the concept of foldable phones in general. The Galaxy Fold's chance to lead the emerging category could come under fire if buyers turn their backs on the innovative design, or opt for a rival model like Huawei's Mate X, TCL's upcoming designs or a rumored foldable phone like the Motorola Razr.
CNET's review unit remains intact, and there might be one specific reason why. Two of the reviewers (Gurman and Brownlee) experienced their problems when they removed a thin plastic film that runs along the Galaxy Fold's screen.
This layer is noticeable, and isn't immediately obvious if it belongs to the phone or if it's an extra film of the kind you commonly see on devices to keep screens smudge- and lint-free during shipping and storage.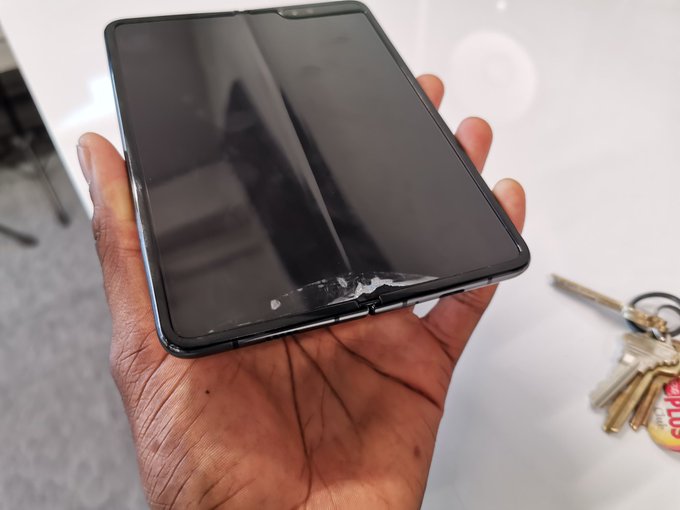 I had received my review unit on Monday morning, then shot an unboxing video, and worried that I had forgotten to take off this plastic layer — what would the YouTube viewers say?!
Turns out, what looks like a paper-thin sheet of plastic covering the foldable phone's 7.3-inch display is a protective layer that's crucial to helping keep the phone damage-free.
You can see the edges of that layer here, on my review unit:
But it's not the whole story, because two other reviewers, Haselton and Bohn, said that they didn't remove the film, and still had problems that rendered the Fold unusable. So what's going on? More