The United States Patent and Trademark Office has published a patent application filed by Google Technology Holdings LLC for an "electronic device having pivotably connected sides with selectable displays." This could be a joint project with Motorola, as some of the drawings included in the application show the company's famous batwings logo.
An application for a probable foldable phone with selectable displays has been unearthed via the USPTO. The abstract for the filing describes imaging devices in a similar manner as would be found on a smartphone, phablet, or tablet, which is supported by the designs featured in the numerous drawings that accompany the application.
Although the filing has been made by representatives for Google, the Motorola logo can be found in the drawings, leading to suggestion that the foldable phone with selectable displays could be a joint venture, possibly in a similar vein as the well-received Nexus 6. However, as this is just a patent filing, it's also possible that nothing is in the works at all. One of the drawings shows the device in "tent mode," leading to speculation that the phablet could be utilized by two different users at the same time (possibly for gaming purposes).
The patent also describes numerous deployments of imaging devices, offering up usage scenarios such as 3D photography, panoramic sweep photography, and multiple viewfinder availability. The application states that the phone's camera equipment could even allow both the user and subject to see how a potential photo of the subject looks thanks to rotating viewfinders. Motorola is expected to deliver a foldable handset to the market sometime around the second half of 2019 or heading into the first half of 2020.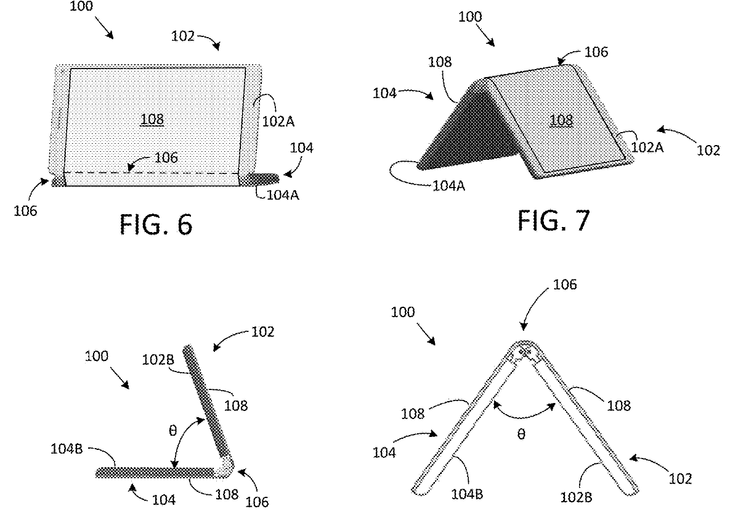 By Daniel R Deakin notebookcheck.net