Huawei has announced today that shipments of its smartphones in 2018 have exceeded 200 million units.
In recent months the company became the No. 2 supplier of smartphones, ahead of Apple and behind Samsung, marking a remarkable progress Huawei has made since it entered this market eight years ago.
Huawei launched its first mobile phone in 2003, primarily targeting developing economies as companies like Nokia and Motorola dominated established markets back then. According to Huawei, it was successful enough to sell its consumer business unit for some $10 billion to Motorola, yet never did. The company did not see many opportunities on the smartphone market till 2009, when it introduced its first smartphone (the U8220) which also targeted the low-end of the market.
The company changed its approach to smartphone design and consumer business in general with the subsequent generations, introducing rather successful devices and then its EMUI for Android in 2012. Somewhere along the line the company partnered with Leica for smartphone cameras to become known known for its smartphones imaging capabilities.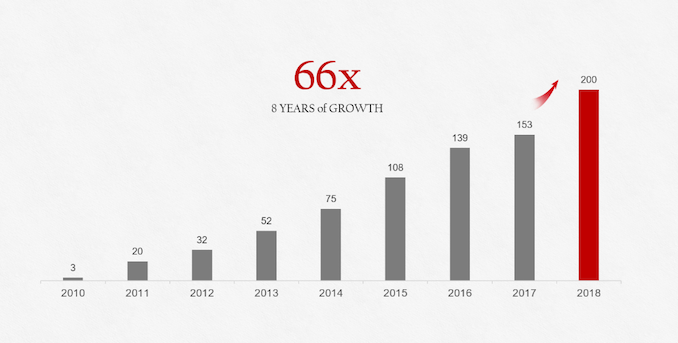 To tell the long story short, sales of Huawei smartphones increased 66 times from 2010, a compound annual growth rate of 69% (or 39% if you exclude the low base of 2010). Back in Q3 alone, according to IDC, Huawei sold 52 million smartphones, that is below 72 million sold by Samsung and above 47 million sold by Apple.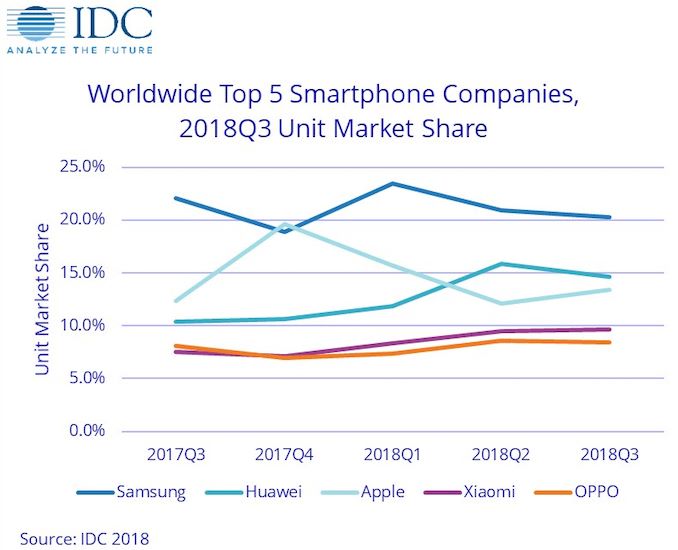 Because of the trade dispute between China and the US, Huawei smartphones have issues in the US, obviously capping the company's sales and restricting the markets. Nevertheless, having sold 200 million units this year, the company is sitting comfortably at the No. 2 position with only Samsung ahead of it.
Huawei's Smartphones in 2018
The 200 million unit value includes all Huawei branded and Honor branded smartphones, although the two companies are managed under different umbrellas internally. Honor states that it would be #5 worldwide by itself, to give some perspective. Throughout 2018, both companies have launched a number of compelling smartphones to whet the appetite.
In October we saw the launch of the Mate 20, the Mate 20 Pro, the Mate 20 X, and the Mate 20 RS, with the first two of those being the key drivers for Huawei's flagship line. These two devices use the latest 7nm Kirin 980 chipset, with a large focus on AI compute performance.
You can read our Huawei Mate 20 and Mate 20 Pro review here, along with our Kirin 980 deep-dive analysis.
The Mate 20 Lite, using the Kirin 710, also debuted in Q3.
Earlier in the year, Huawei launched the P20 and the P20 Pro. This more mid-range device, during the height of the 'Notch' drama, focused on its Kirin 970 internals as well as a 960 FPS camera mode. The key highlights in our review were the battery life, showing the detail to optimization, and the night vision mode, which at the time was a step above the competition.
Honor on the other hand launched at least seven smartphones in 2018: The Honor 9 Lite, the Honor Red 7X, the Honor 10, the Honor 7S, the Honor Play, the Honor 8X, and the Honor Magic 2. More
By Anton Shilov  anandtech.com