We could have just gotten our first real look at the Samsung Galaxy X – or Samsung Galaxy F as it might be called – at the Samsung Developer Conference.
Update: Following Samsung's reveal of its first folding display, a source has provided information on when the Galaxy X might launch and what it might cost.
Samsung revealed something huge: its first foldable screen, which opens clamshell-style and flattens out for a tablet-size display. The Infinity Flex Display, as the tech is called, is an entirely new direction for Samsung smartphones that required development of new materials and processes to make it functional.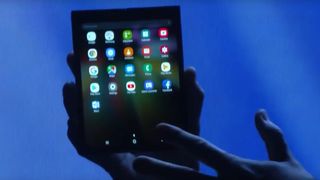 What's less clear is whether we saw the Infinity Flex Display mounted on the Galaxy X itself, or whether that was simply a placeholder phone to show off the screen. Samsung literally revealed it from the shadows to hide the design.
You can rewatch Samsung's keynote from the Samsung Developer Conference on YouTube if you want to see the possible unveiling of the Galaxy X (skip to 1:23:00).
In the meantime, you can read everything we know so far below. The Samsung Galaxy X launch has been rumored for a few years, and the leaks continue to roll in about the firm's fabled foldable, flexible, bendable smartphone.
We've gone through all the flexible Samsung smartphone leaks, from the first reports of a folding phone back in 2011 to the most recent reports naming the Samsung Galaxy X and Galaxy F directly.
There's a lot to unpack from several years, but it now feels like we're getting close to a Samsung Galaxy X launch date, and things are beginning to get a little clearer on what we may be able to expect.
Cut to the chase
What is it? Samsung's much-rumored folding smartphone
When is it out? Possibly early 2019
What will it cost? It'll likely be one of the most expensive phones around
Samsung Galaxy X release date and price
The Samsung Galaxy X release date is now clearer as the company has finally shown off the display it will use. Other details are scarce, but this suggests it's well on the way to launching.
Reports from South Korea have said the Galaxy X won't be on sale until 2019. However, it may at least be globally available when it does land.
More specifically, more than one rumor has now pointed to a proper announcement in February, possibly at MWC 2019. That event takes place at the end of the month, so the Galaxy X probably wouldn't go on sale in that case before March 2019.
You may have to pay a lot for it too as an analyst reckons the Samsung Galaxy X price could reach ₩2,000,000 (around $1,850, £1,375, AU$2,400). That's a price we've heard more than once.
Samsung Galaxy X leaks and news
Our clearest look yet at the possible Galaxy X comes from Samsung showing off the Infinity Flex display it will be using. It's a clamshell design that can be unfolded to provide you with a big tablet screen, or folded down to more of a smartphone size.
Prior to that, in November 2017 we got a look at the possible interface of the Galaxy X, revealing a familiarly Samsung UI, but where each half of the display shows a different screen, rather than just making everything bigger or smaller.
This interface was shown in a patent, which also gave us another look at the possible design of the phone, showing something with a laptop-like design, but a second screen where the keyboard would be.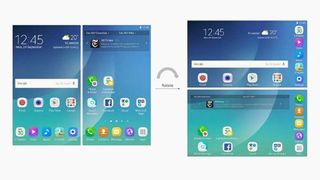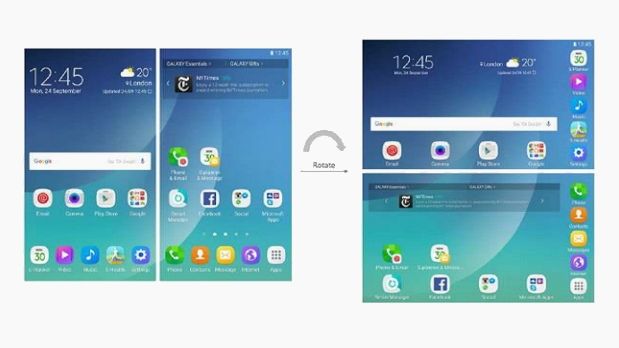 The announcement of the Galaxy F seems to be on schedule, as in early 2018 an industry source claimed Samsung would likely start producing the phone – which will apparently have a 7.3-inch display – in November 2018, with a launch likely in December or early 2019. That matches what DJ Koh has since claimed.
However, given that we only just got a partial look at the phone, a proper launch in early 2019 seems more likely than December.
But apparently prototypes of the folding phone had already been shown offbehind closed doors back at CES 2018, which took place in January. More