Foldable smartphones are reportedly the next big thing, and just about every smartphone maker has shown one off already.
So far their displays tend to open and close like a book.
That's not the case with a new prototype Sharp is showing off. It's a clamshell design that looks remarkably similar to an old-school Motorola Razr, except its interior is all screen.
The display measures 6.18 inches diagonally and boasts a native resolution of 1440 × 3040 pixels. That's roughly 544PPI and in the same neighborhood as the stunning display on the Samsung Galaxy S10.
The big difference, of course, is that Sharp's display is meant to be folded repeatedly. Sharp says it can be opened and closed more than 300,000 times.
It's hard to judge with certainty from the brief video clip shared by Engadget Japan, but it definitely looks like Sharp has figured out how to solve one annoying little problem we've seen on other company's folding phones.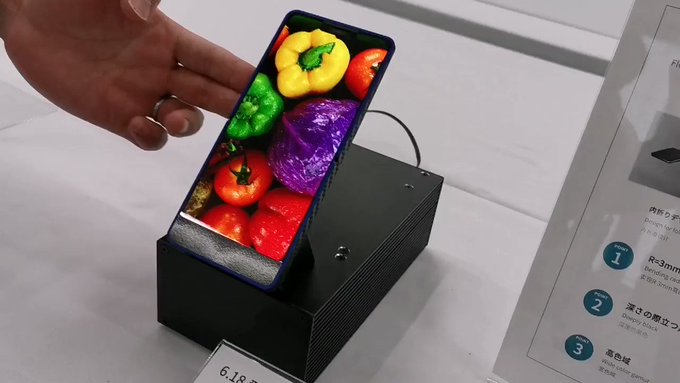 速報です。シャープが曲がる折りたたみスマホ向け有機EL展示。三重工場と堺工場で製造した「純日本製」パネルとなります。
https://japanese.engadget.com/2019/04/09/el/ 33.1K3:15 AM – Apr 10, 201919.2K people are talking about thisTwitter Ads info and privacy
There doesn't appear to be a noticeable crease in the middle of the screen when it's unfolded, even when mostly black. That's a pretty big selling point when you consider that Sharp's competitors are asking $2000 for devices that have visible grooves.
Not sold on the clamshell design? While not all that popular in the West any more, there's still a big demand for flip phones in Asian markets. Samsung just unveiled a new one back in November and slapped a $2700 price tag on it.
Sharp could be positioning their new foldable to go after the same group of consumers. These are folks who don't have an issue with sticker shock and Sharp wouldn't have to produce a huge number of the first-gen phones.
They could keep supplies limited to give the phone an extra dash of exclusivity while continuing to refine the displays for future mass-market devices. More