In a lot of ways, doing a traditional review of the Samsung Galaxy Fold is pointless.
Anyone who buys one isn't doing so because it's a good value or a sound purchasing decision. It's not. They're buying one because it's new, innovative, and exciting.
Besides, pre-orders for the Galaxy Fold have already sold out in the U.S, so even if you want one, it's probably too late. And yet, for a product with many flaws, even in its current state, the Galaxy Fold presents a vision that makes a ton of sense, and it's one of only a handful of gadgets that you can call a game changer and mean it.
The Galaxy Fold by the numbers
The Fold is truly an outrageous gadget. Weighing in at 263.65g and measuring just over 17 millimetres thick, the Galaxy Fold is almost twice as heavy and more than double the thickness of a standard Galaxy S10.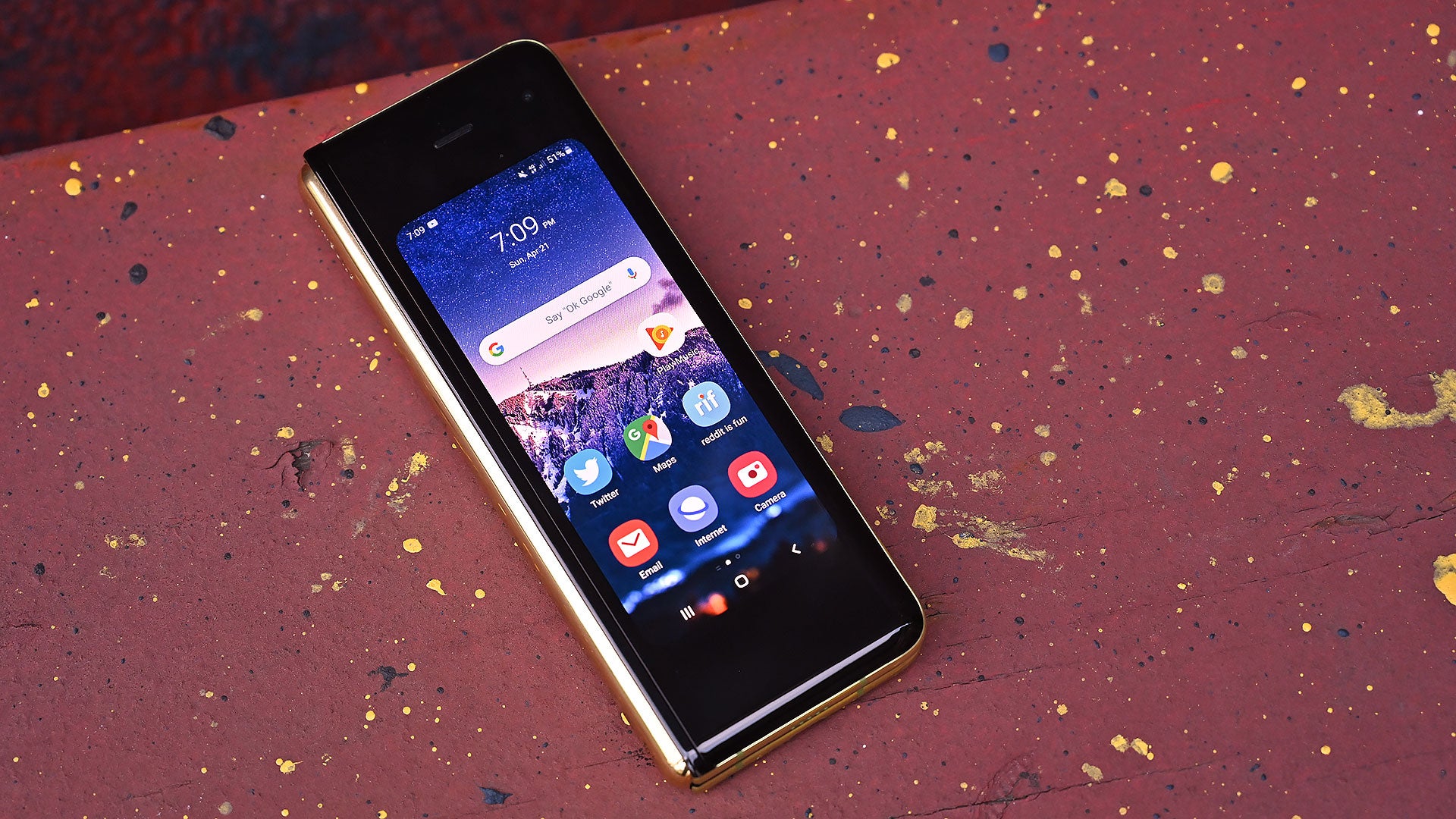 Galaxy Fold
WHAT IS IT?
A dual-screen phone with a hinge and a large, folding display
PRICE
$2,813
LIKE
Making a device with a 7.3-inch screen that still fits in a pocket, ludicrously good battery life, blazing performance, tons of storage
Sure, it might fit in your pocket, but you're never going to forget it's there, and if your pants are loose or you forgot to wear a belt, you're going to be at risk of randomly dropping trou throughout the day. You can't stash the Fold in a breast pocket either without looking like you're trying to smuggle a bar of gold out of Fort Knox.
But the real sticking point for most people is Fold's $US2,000 ($2,842) price tag. For the same money, you could almost buy four OnePlus 6Ts, a phone that can generally do the same stuff the Galaxy Fold can. Or you could buy everyone in a family of five plus weird Uncle Jerry their own Nintendo Switch, and still have some cash left over.
On the flip side, the Galaxy Fold is a spec monster boasting six cameras, 12GB of RAM, 512GB of storage, and two displays: a 4.6-inch "cover screen" on the outside, and a flexible 7.3-inch screen on the inside. Compare that to an iPhone XS Max which has a screen that tops out at just 6.5-inches and costs $US1,450 ($2,060) when kitted out with the same 512GB of storage. Suddenly, the Galaxy Fold's price doesn't seem quite as preposterous. And that's before you consider the Fold comes with a pair of Galaxy Buds and a Kevlar-like case included.
Then there's the Fold's 4,380 mAh battery that delivers incredible longevity on a charge: Using its big folding screen, on our video rundown test, the Galaxy Fold lasted 17 hours and 6 minutes, which is the longest runtime we've ever seen on a phone.
What's the point of that big 'ole screen?
Aside from all the trouble people have wrapping their heads around Galaxy Fold's price, the other main question I get about the Galaxy Fold is: What the hell are you supposed to do with a screen that big? It's a fair question, especially considering apps like Twitter, Instagram, and others don't function any differently on the Fold than they do on other phones. Things just look bigger, similar to what you'd get if you were using a tablet. Phrased like that, the screen's an underwhelming gimmick.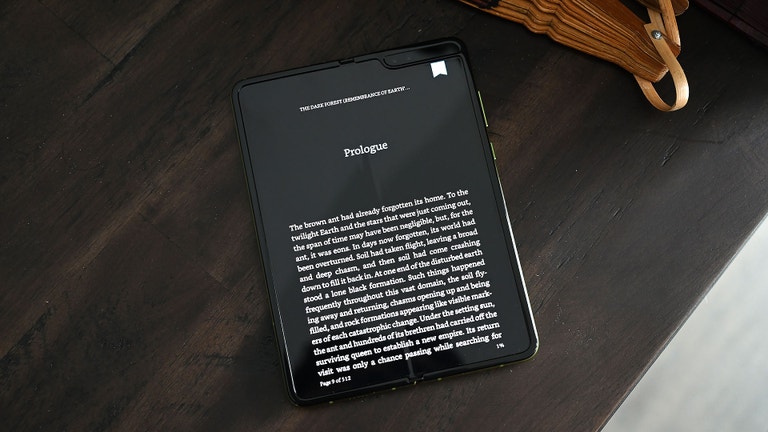 The Fold makes me question if I need a Kindle anymore. (Photo: Sam Rutherford, Gizmodo)
But if you'll allow me to generalise for a bit, you know who loves tablets? Grandparents. For them, the bigger screen makes it easier to tap icons and read text, while the ability to fold the thing in half means you can take the Fold places a tablet might not usually go. Forget that abstraction, though, because that's not what I love about the Galaxy Fold. To me, the Fold's big, bendy screen means it can consolidate multiple devices into a single gadget. It's tech simplification at its finest. More info